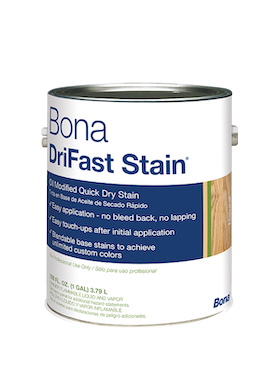 Bona DriFast Wood Stain
An oil-modified stain that dries and is recoatable in two hours. Advanced technology, quick-drying formula provides speed and high performance for hardwood flooring professionals. Compatible with all Bona waterborne systems and all other Bona finish systems. All stain colors are available in quart and gallon sizes.
Key Benefits
2 hour dry time*
No bleed back
Penetrates, stains, and seals bare wood
800 – 1,000 sf/gal coverage rate
All stain colors can be blended, offering an endless color palette
Cleans up with mineral spirits
Low odor
Easy touch-ups (mineral spirits for thinning dark or heavy spots
*6 hours minimum for white and 12-18 hours for Ebony, Spice Brown, Bark and Cocoa under ideal conditions of 60-80 degrees F with 35-75% relative humidity.
METROPOLITAN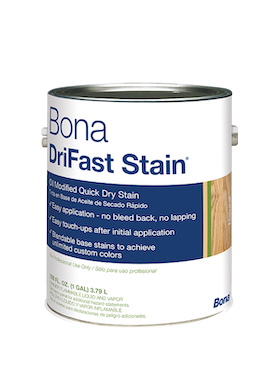 The Metropolitan Collection is comprised of saturated reds, smoky browns, grays and rich, chocolaty black. Each color captures an urban vibe that's just right for today's sophisticate.
CLASSIC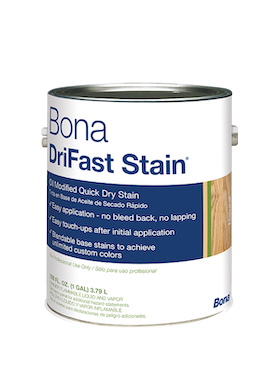 The Classic Collection is a rich presentation of authentic browns and rich auburns that compliment the heritage of traditional design. This exemplary palette has its roots in the natural appeal of hardwoods.
ESSENTIALS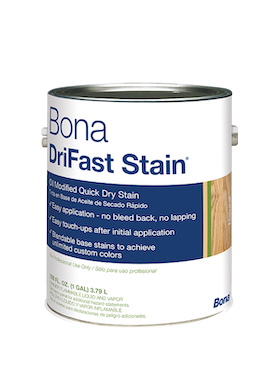 The Essentials Collection is comprised of warm ambers and hints of exotic spices that transport this palette across varied design styles. Find just the right shade for your particular paradise.
NATURALS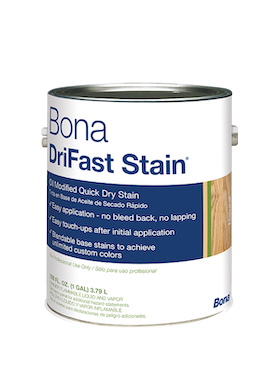 The Natural Collection is subtle and soft with light tones mixed with warm whites. This easy, breezy collection blends right in with your everyday, everyway living.
UNIQUE BLENDS