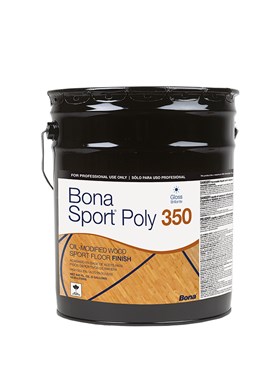 Bona Sport Poly 350 Finish
Premium quality, high solids oil-modified polyurethane developed specifically for the wood sport floor market.
It has low VOC's and provides an extremely tough, high build gloss finish with excellent chemical resistance, protecting against perspiration and routine cleaning. Specially formulated to meet all federal and state clean air quality standards.
Key Benefits
High solids, oil-modified polyurethane
Provides a tough protective coat
Provides excellent chemical resistance
Light amber color enhances natural color of wood
MFMA approved
Easy to maintain
Self-leveling
Will adhere to most solvent-based and waterborne finishes after proper preparation, drying, and curing times